Navigation Central
Faced with the daunting task of navigating the basement flight deck in its travels throughout the world, not to mention providing a platform for actually using the capabilities contained in WWII DF receivers, it seemed like a good idea to fabricate an appropriate panel for mounting the plethora of indicators and controls.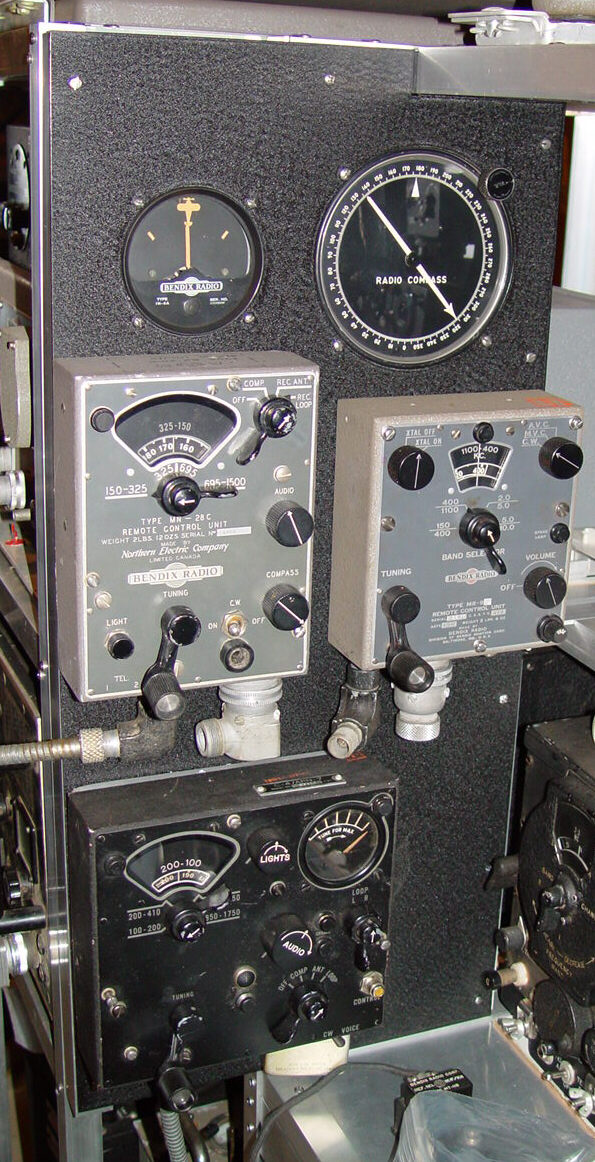 Following a WWII format suggested finishing in black wrinkle paint, and attaching it to the side of the navigation bay made flex cable runs shorter. The problem has become not one of functionality, but lack of room to hang all the controls in a reasonably ergonometrically useful manner. With a few remaining indicators and coffee grinder loop positioners to mount, it appears that an overhead panel may be necessary.
What you see here are the control panels for the MN-26 at top left (the correct MN-28LB has replaced the control head shown), the RA-10 to its right (MR-9B is the control head), and the C-4/ARN-7 for the AN/ARN-7 beneath them. The ARN-6 control box will go beneath the ARN-7 control. The meter at top left is the left/right meter for the MN-26 loop, while the compass at far right is the indicator for the automatic homing ARN-7 loop.
Return to AAFRadio